It's Time To Flourish 
With personal guidance and group support.
You've found a safe place to explore
,  dig deep, and manifest your greatness
INTRODUCING...
LET'S FLOURISH
A Community with Focused Support with Coaching
As a stand-alone, this program would sell for over $4000.  But you can get immediate access to all that is offered, for just $37/month
CONNECT WITH WHAT MATTERS MOST, then SERVE and PROSPER
Disconnect from the noise around you. Tune in to your dharma, wisdom, body, and soul.
Become clear on your life purpose, your vision, and your mission
Connect with your wisdom, make a plan, take action, and maintain your focus with balance no matter what
Live with purpose and passion
Invest in yourself like never before so you can step forth in the world with confidence, joy, and impact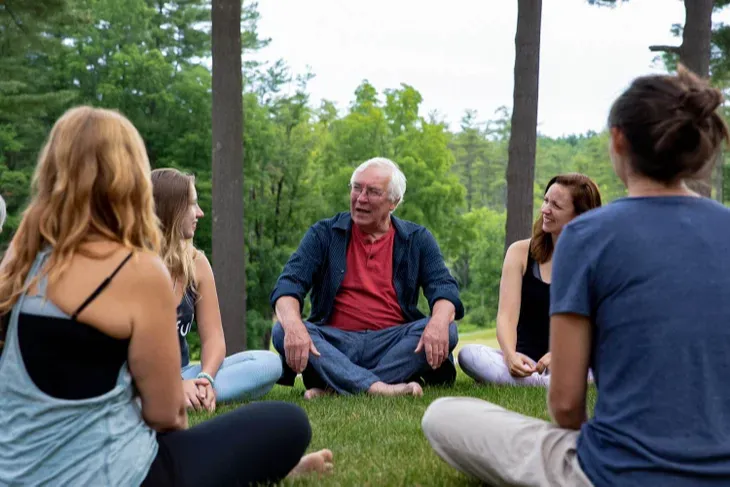 PERSONAL AND GROUP COACHING
My past 40 years of teaching and mentoring have produced thousands of yoga therapy professionals and provided me with amazing growth opportunities.
You will have access to me and all I"ve learned to help you personally or professionally.  I'm on your team. And it's where I want to be now.
(VALUE $800)
YOUR OWN PROGRAM OF PERSONAL TRANSFORMATION
Engage in the 55 Lesson Art of Flourishing program. at your own pace, focusing in-depth on the eight key themes of personal transformation.
This course includes videos, audio, inspirational articles, recordings, practices, self-assessments, and community discussion. 
(VALUE $397)
ATTEND ALL OF MICHAEL'S SEASONAL WORKSHOPS
Connect to seasonal rhythms, embody the energy, and explore their contribution to your flourishing. Engage seasonally appropriate rituals and practices to support your flourishing journey. 
(VALUE $312)
CONNECT DURING OPEN OFFICE HOURS 
Drop in during office hours to ask questions, review your journey, and get tips, tools, and resources from Michael. 
And as a successful entrepreneur in the yoga therapy world for four decades, Michael can also help put your professional life on track too. 
(VALUE $600)
COMMUNITY SUPPORT GROUPS AND MASTERMINDS
Bring your challenges to your select online community.  Start your own topic threads, and invite other members to a "meet-up". in the always available Community Live Chat Room.
Maximize being among powerful and committed individuals supporting each other to flourish personally and professionally. 
Remember, it's challenging to flourish alone. It's much easier with community and connection. Why go it alone when a community like this is available to you?  
(VALUE $600)
RESOURCES, RESOURCES, RESOURCES
Need an article on a topic, a recording, a reading recommendation?.  Michael has assembled a vast array of personal resources and can often tap just the right article or reference you need. Other members of the community also have much-valued experiences and resources to offer.
Our shared resources will help you to flourish.
(VALUE $800)
Most would describe me as a lifelong learner and teacher. I'm also a father of five and a husband. It's taken me most of my life to learn how to flourish.
I've experienced success and traveled the world.. I've flown an airplane, climbed mountains, and enjoyed some fantastic dinners in the company of great people. All of this is great, but it does not describe flourishing.
Flourishing doesn't depend on any of those things I just listed.
When I wake up each day now, I feel blessed by the relationships in my life. I feel the love. I also feel grateful for the work that enables me to do the things I love and to serve others in ways that align with the world I'd like to create. That's flourishing!
Society may put us in boxes, but that doesn't mean we must stay there. Break free from who you think you should be and start living true to your life.
Join me on a journey of self-love, self-discovery, unapologetic confidence, and flourishing.
"To be mentored by Michael Lee is a true gift of self-exploration with a steady guide who sees you, hears you, supports you, and is real with you. The time, truth, and energy Michael gives to his life's work are shown through the way he chooses to live his life. It beams through in the dynamic space he is able to hold."
Katie Olsen
"I honestly thought I had resolved my past experiences through cognitive therapy and didn't realize what was still living in my body. I'm so grateful to Michael Lee and his practices for helping me grow in my awareness of what my body is holding onto and for creating a place where I can compassionately accept all that I am and all that I bring into each moment. Nothing to fix!
Petra Pandopolous
IS THIS YOUR PATH TO FLOURISHING?
Why not go it alone?  You are wise and know a lot about what works.
One of the hardest things for me, and maybe for you, is to say yes to the readily available support. 
But deep down, and from experience, we know that sometimes that one word of encouragement, or that one inspiring exchange, can make so much difference.  
If you want to flourish and know the support will make it an easier transition, then make a commitment to invest in yourself.
You'll be helped to eliminate distractions and break down your walls. 
Get to know and love who you are on the inside and recognize all you have to offer. You'll fly like the Phoenix and Flourish!
What time investment will I need to make?
What if I want additional personal coaching? Is it offered?
What is the schedule for Group Coaching and Open Office?
When are the seasonal webinars?
What are Community Circles?
What is in the Art of Flourishing asynchronous program
A Phoenix Rising Program with Michael Lee